Just like Martin Luther King, Jr, a great American, in whose shadow I stand today. His momentous words came as a great beacon of light of hope to millions of Negro slaves who had been seared in the flames of withering injustice. It came as a joyous daybreak to end the long night of their captivity.
His voice of peace and prosperity inspired people to believe in the human spirit. Forty-nine years later his voice inspired me to recreate his dream into my dream. One thousand years later, the human is still not free. One thousand years later, the life of the human is still sadly crippled by the manacles of religion and the chains of diversity. One thousand years later, most humans live on a lonely island of poverty in the midst of a vast ocean of material prosperity.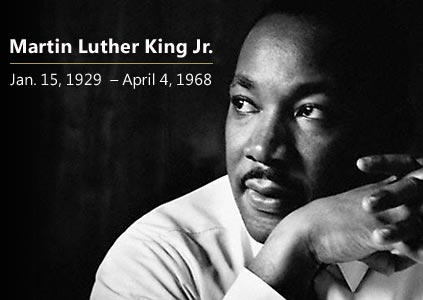 One thousand years later, the human is still languishing in the corners of the world society and finds himself an exile in his own land. So I have come here today to dramatize a shameful condition. In a sense I have come to ask our world leaders to cash a check and re-write the magnificent words of the Constitution and the Declaration of Independence. To sign a promissory note to which every human would fall heir.
This note would promise that all humans would be guaranteed the unalienable rights of life, liberty, and pursuit of happiness. It is obvious today that the world leaders have defaulted on this promissory note insofar as their citizens of poverty are concerned. Instead of honoring this sacred obligation, the world leaders have given the human people a bad check, a check which has come back "insufficient funds." But I refuse to believe the bank of justice is bankrupt. I refuse to believe that there are insufficient funds in the great vaults of opportunity in this world.
So I have come to cash this check—- a check that will give us upon demand the riches of freedom and the security of justice. I have also come to this hallowed spot to remind the world leaders of the fierce urgency of now. This is no time to engage in the luxury of cooling off or to take the tranquilizing drug of gradualism. Now is the time to make real the promises of human justice. Now is the time for us to rise from the dark desolate valley of fear and hatred to the sunlit path of humanity. Now is the time to lift our world from the quick sands of social injustice to the solid rock of human brotherhood. Now is the time to make true justice a reality for all God's children. It would be fatal for the world leaders to overlook the urgency of the moment. This sweltering anger amongst the people's legitimate disconnect will not pass until there is an invigorating autumn of true freedom and equality. 2001 was not only a warning to us all, but also, a beginning. Those who hope that the poor and abused needed to blow off steam and will now be content will have a rude awakening if the world returns to business as usual. There will neither peace and tranquility in the world until the impoverished is granted their human rights. The whirlwinds of revolt will continue to shake the foundations of our world until the bright day of true justice emerges. In the process of gaining our rightful place we must not be guilty of wrongful deeds. Let us not seek to satisfy our thirst for freedom by drinking from the cup of bitterness and hatred. We must always conduct our struggle on the high plane of dignity and discipline. The marvelous new militancy which has engulfed the human community must not lead us to distrust all citizens of the world, for many of our human brothers, have come to realize that we are all together with our destiny.
They have come to realize that their freedom is inextricably bound to my freedom. We cannot walk alone. As we walk, we must make the pledge that we shall always march ahead. We cannot turn back. There are those who are asking the devotees of human rights, " When will you be satisfied?" We can never be satisfied as long as the human is the victim of the unspeakable horrors of government brutality and poverty. We can never be satisfied as long as our bodies, heavy with fatigue of travel cannot gain peace and employment in the cities and towns of our world. Becoming refugee's in our own countries. We cannot be satisfied as long as our children are stripped of their selfhood and robbed of their dignity by the invisible signs stating " For The Rich And Privileged Only". We cannot be satisfied as long as people around the world cannot feed themselves and a man in Afghanistan believes he has nothing for which to live for. No, no, we are not satisfied, and we will not be satisfied until human justice rolls down like waters and righteousness like a mighty stream. I am not unmindful that some of you come here out of great trials and tribulation. Some of you have been ripped from your homes and thrown in political prisons. Some of you come from areas where your quest for freedom left you battered by the storms of political persecution and staggered by the winds of human brutality. Continue to work with the faith that unearned suffering is redemptive.
Go back to Afghanistan, go back to Africa, go back to Iraq, go back to Libya, go back to Somalia, go back to the bombed out ruins of our cities, knowing that somehow this situation can and will be changed. Let us not wallow in the valley of despair. I say to you today, my friends, so even though we face the difficulties of today and tomorrow, I still have a dream. It is a dream deeply rooted in the human dream. I have a dream that one day this world will rise up and live out the true meaning of its creed: " We hold these truths to be self- evident: that all humans are created spiritually equal." I have a dream one day that the blood of our son's and daughter's will no longer needlessly flow, and that we can all sit down at the table of humanity.
I have a dream that one day even the country of Syria, a country sweltering with the heat of injustice, sweltering in the heat of oppression, will be transformed into an oasis of freedom and human justice. I have a dream that our children can grow up in a world where pedophiles will no longer be able to hide behind government and religion to carry out these atrocities. I have a dream that my four little grandchildren will one day live in a world where people are judged and rewarded more on their spirit of humanity, rather than the playing fields of government, corporations or sports.
I have a dream. I have a dream that one day, in the world, with its vicious capitalists and governments having their lips dripping with words of interposition and nullification; one day right there in America, little Muslim boys and girls can join hands with Christian boys and girls in the circle of humanity, by truly excepting the diversity amongst them. I have a dream that one day we humans will learn to speak from the heart of humanity, rather than the mind of insanity.
I have a dream that one day governments will truly lead its people into peace and prosperity, not war and debts that realistically can never be won or paid back. I have dream that one day every valley shall be exalted, every hill and mountain shall be made low, the rough places will be made plain, and the crooked places will be made straight, and the glory of the human spirit shall be revealed, and all humans shall see it together.
Written by: Martin Luther King Jr. 1963

Revised by: Les Semeniuk 2012